Savings and coverage tools to help your patients start Tresiba®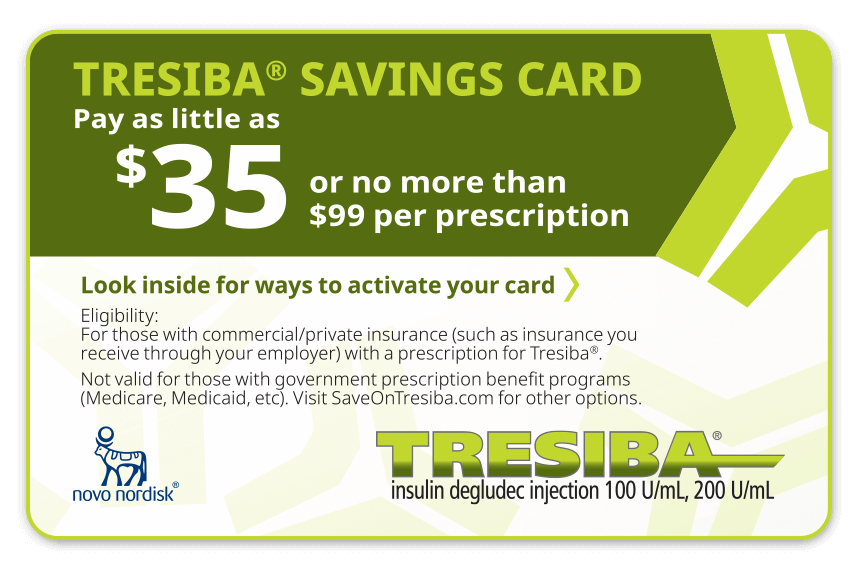 Novo Nordisk has the best formulary coverage in the basal category
Of Novo Nordisk's basal insulins, Tresiba® has ~82.2% national formulary coverage (commercial and Medicare Part D combined) and is covered nationwide on the majority of Medicare Part D plans.1,a-c Use the formulary tool to check coverage in your area.
Find out exactly which plans in your area include Tresiba®. Formulary status is believed to be accurate at the time of update but cannot be guaranteed.
aFormulary status subject to change. This information should not be used to make efficacy or safety comparisons between or among mentioned products.
bFormulary data are provided by Fingertip Formulary® and are current as of October 2021.
cMedicare Part D data are on file with Novo Nordisk and are current as of October 2021.
What can patients expect to pay for Tresiba®?
Commercially ins­ured patients
The majority of patients pay $35 or less per monthly co-pay2,d
With the Tresiba® Savings Card, eligible patients pay as little as $25 or no more than $99 per prescription.e
The majority of patients pay $50 or less per monthly co-pay2,d
Low-Income Subsidy or Extra Help patients likely pay $9.85 per month or less3
Nearly 50% of Part D Tresiba® patients receive Low-Income Subsidy or Extra Help benefits2
Average Medicare co-pays for Tresiba® are comparable with other branded basal insulins2,f
dResults based on average monthly patient out-of-pocket cost for Tresiba® 12-month rolling period from IQVIA LAAD, July 2020. Excludes cash-paying patients.
eEligibility and other restrictions apply. 
fOther branded basal insulins include Basaglar®, Lantus®, Levemir®, and Toujeo®.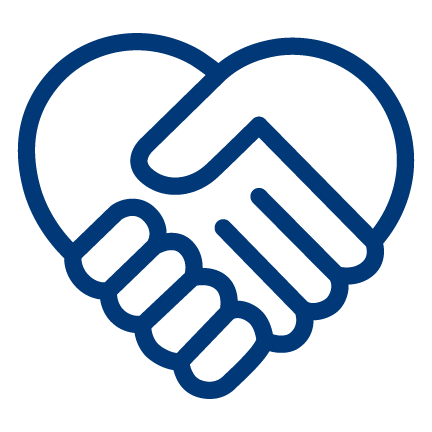 See all the insulin affordability offerings at NovoCare.com, including the Novo Nordisk Patient Assistance Program (PAP), which offers Tresiba® at no cost to those who qualify for up to a yearg
Request samplesa to start patients on Tresiba®
aYou must be a licensed practitioner who can legally prescribe medication in your state. (Request for product samples is limited to 1 request per health care professional.)
Indications and Usage for Tresiba® (insulin degludec injection) 100 U/mL, 200 U/mL
Tresiba® (insulin degludec injection) is indicated to improve glycemic control in patients 1 year of age and older with diabetes mellitus.
Limitations of Use
Tresiba® is not recommended for treating diabetic ketoacidosis.
Important Safety Information
Contraindications
Tresiba® is contraindicated during episodes of hypoglycemia and in patients with hypersensitivity to Tresiba® or one of its excipients
Warnings and Precautions
Never Share a Tresiba® FlexTouch® Pen, Needle, or Syringe Between Patients, even if the needle is changed. Patients using Tresiba® vials should never share needles or syringes with another person. Sharing poses a risk for transmission of blood-borne pathogens
Hyperglycemia or Hypoglycemia with Changes in Insulin Regimen: Changes in an insulin regimen (e.g., insulin strength, manufacturer, type, or injection site or method of administration) may affect glycemic control and predispose to hypoglycemia or hyperglycemia. Repeated insulin injections into areas of lipodystrophy or localized cutaneous amyloidosis have been reported to result in hyperglycemia; and a sudden change in the injection site (to an unaffected area) has been reported to result in hypoglycemia. Make any changes to a patient's insulin regimen under close medical supervision with increased frequency of blood glucose monitoring. Advise patients who have repeatedly injected into areas of lipodystrophy or localized cutaneous amyloidosis to change the injection site to unaffected areas and closely monitor for hypoglycemia. Adjustments in concomitant anti-diabetic treatment may be needed.
Hypoglycemia is the most common adverse reaction of insulin, including Tresiba®, and may be life-threatening. Increase monitoring with changes to: insulin dose, co-administered glucose lowering medications, meal pattern, physical activity; and in patients with hypoglycemia unawareness or renal or hepatic impairment
Accidental mix-ups between basal insulin products and other insulins, particularly rapid-acting insulins, have been reported. To avoid medication errors, always instruct patients to check the insulin label before each injection
Severe, life-threatening, generalized allergy, including anaphylaxis, can occur with insulin products, including Tresiba® 

As with all insulins, Tresiba® use can lead to life-threatening hypokalemia, which then may cause respiratory paralysis, ventricular arrhythmia, and death. Closely monitor potassium levels in patients at risk of hypokalemia and treat if indicated
Fluid retention and heart failure can occur with concomitant use of thiazolidinediones (TZDs), which are PPAR-gamma agonists, and insulin, including Tresiba®. Patients should be observed for signs and symptoms of heart failure. If heart failure occurs, dosage reduction or discontinuation of the TZD must be considered
Adverse Reactions
Adverse reactions commonly associated with Tresiba® are hypoglycemia, allergic reactions, injection site reactions, lipodystrophy, pruritus, rash, edema, and weight gain
Drug Interactions
There are certain drugs that may cause clinically significant drug interactions with Tresiba®.


Drugs that may increase the risk of hypoglycemia: antidiabetic agents, ACE inhibitors, angiotensin II receptor blocking agents, disopyramide, fibrates, fluoxetine, monoamine oxidase inhibitors, pentoxifylline, pramlintide, salicylates, somatostatin analog (e.g., octreotide), sulfonamide antibiotics, GLP-1 receptor agonists, DPP-4 inhibitors, and SGLT-2 inhibitors
Drugs that may decrease the blood glucose lowering effect: atypical antipsychotics (e.g., olanzapine and clozapine), corticosteroids, danazol, diuretics, estrogens, glucagon, isoniazid, niacin, oral contraceptives, phenothiazines, progestogens (e.g., in oral contraceptives), protease inhibitors, somatropin, sympathomimetic agents (e.g., albuterol, epinephrine, terbutaline), and thyroid hormones
Drugs that may increase or decrease the blood glucose lowering effect: alcohol, beta-blockers, clonidine, lithium salts, and pentamidine
Drugs that may blunt the signs and symptoms of hypoglycemia: beta-blockers, clonidine, guanethidine, and reserpine
Please click here for Tresiba® Prescribing Information.
References:
Fingertip Formulary. August 2020.
IQVIA LAAD, 2020.
Announcement of calendar year (CY) 2021 Medicare Advantage (MA) capitation rates and Part C and Part D payment policies. https://www.cms.gov/files/document/2021-announcement.pdf. Published April 6, 2020. Accessed November 9, 2020.