Obesity Is a Disease. Are You Diagnosing It?
Initiating Effective Treatment Begins With a Diagnosis
As a health care professional, you are uniquely positioned to identify appropriate patients and help them navigate long-term weight management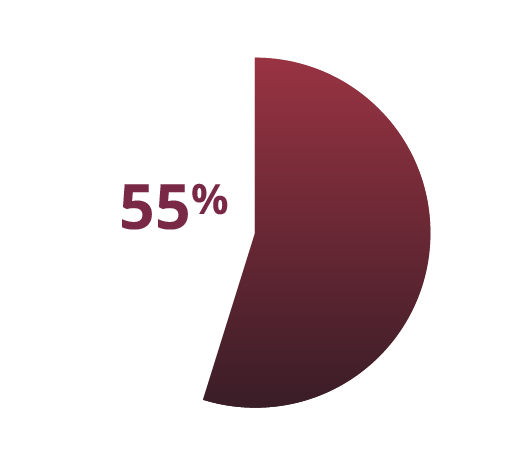 In one study, out of those with obesity who sought a doctor's help, only 55% got a formal diagnosis of obesity1
Diagnosing Appropriate Patients
Body mass index (BMI), which is a ratio of weight vs height, is an objective measure for diagnosing obesity2
Patients with a BMI of ≥30 kg/m2 or ≥27 kg/m2 with 1 or more weight-related comorbidities may be candidates for treatment with Saxenda® as an adjunct to a reduced-calorie diet and increased physical activity.3
The BMI chart is a visual tool that can be used to quickly identify a patient's BMI using their height and weight. The chart is useful in both seeing a patient's current BMI category, as well as determining a healthy weight range to discuss with them.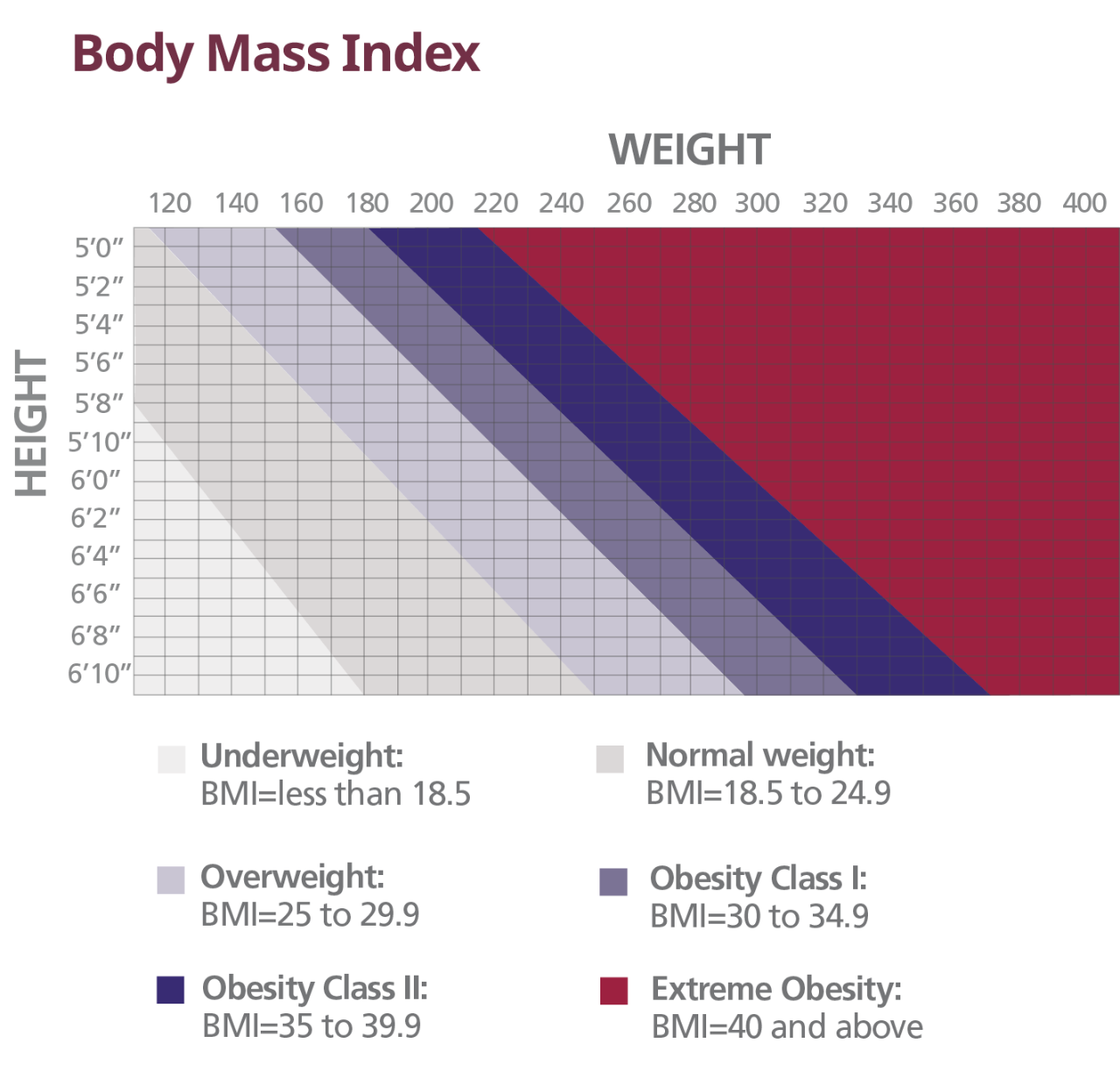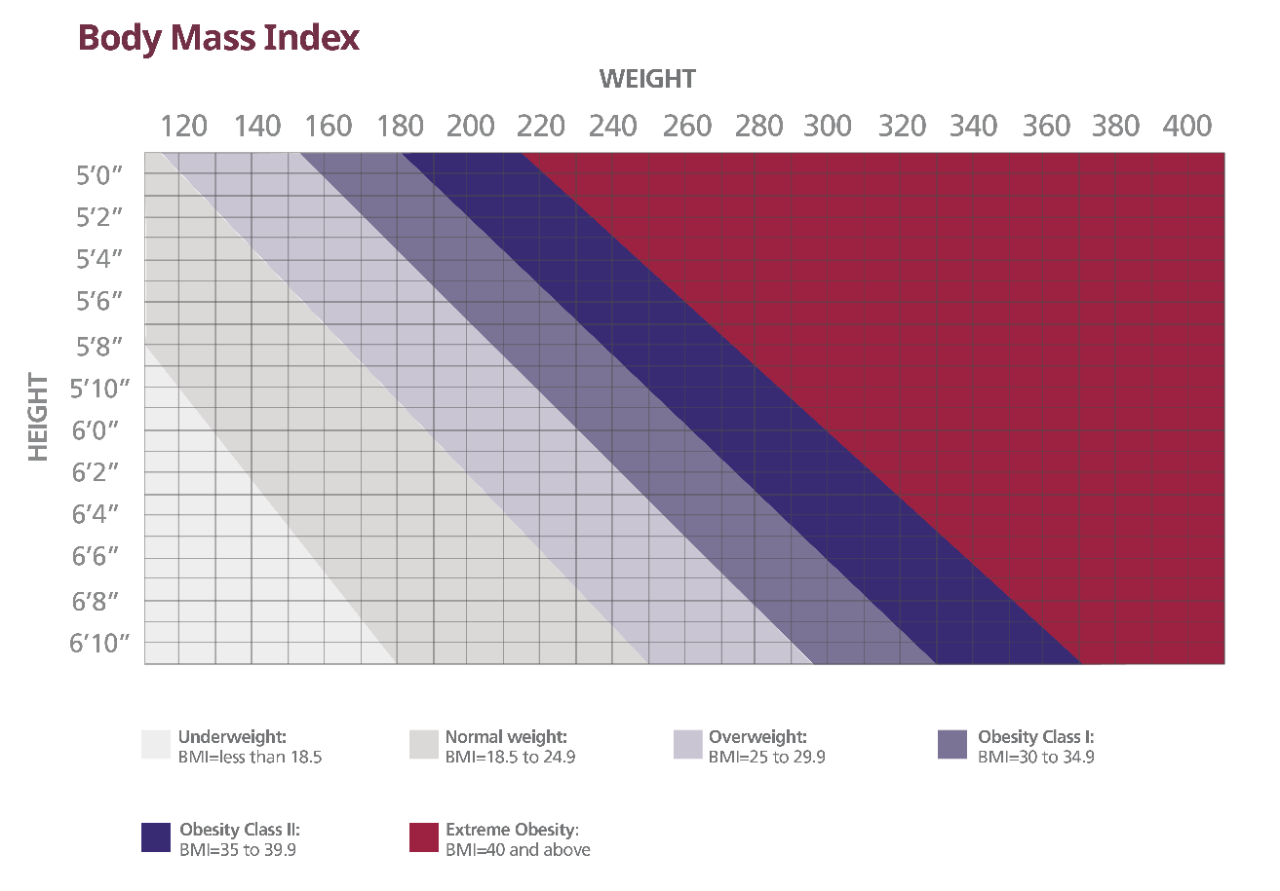 aPlease note that this chart is intended to be used as a quick illustrative reference. For a more precise classification of BMI, the following formula should be used: BMI=703 × weight (lb)/[height (in)].2
Another Key Criteria: Waist Circumference2
Along with body mass index (BMI), waist circumference is an important measure for obesity-related health risks in patients with a BMI of <35 kg/m2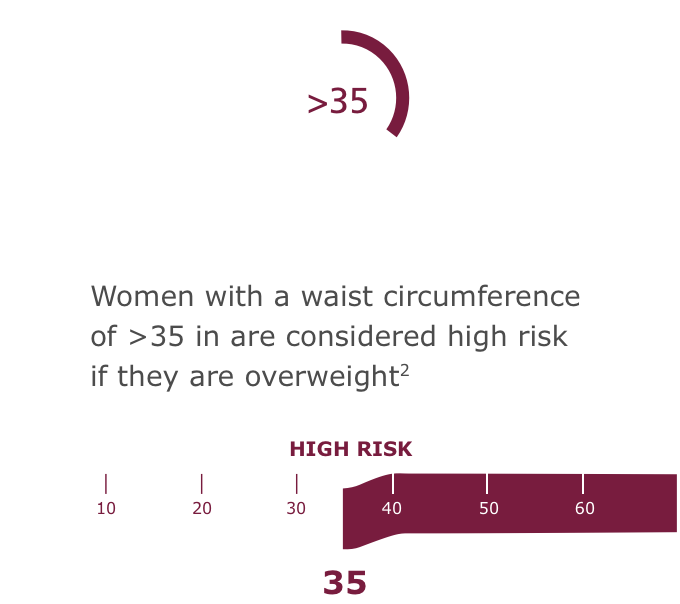 Measure waist circumference in 3 simple steps2
Place the tape measure horizontally around the patient's bare middle, at the level of the upper hip bones
Keep the tape snug around the patient's waist without compressing the skin and have the patient take a deep breath in, then out
Measure after the patient exhales
Remember to record your diagnosis so that patients' records adequately and accurately reflect the care provided
This helps support good patient care, and may also be used to establish treatment coverage, where appropriate and available.
ICD-10 recognizes obesity as a chronic disease. There are more than 35 obesity/BMI codes that you can use to properly diagnose your patients.
Here are some common ICD-10 codes to assist you4: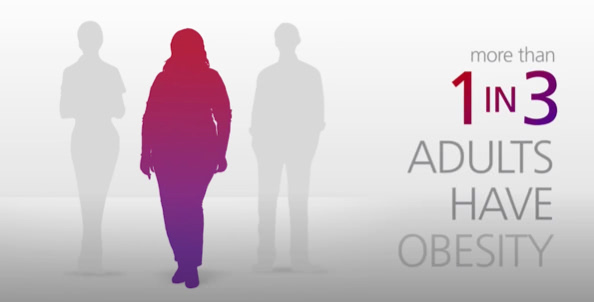 Key takeaways:
More than 1 in 3 adults have obesity, but 70% go undiagnosed
Diagnosed patients tend to be more likely to lose weight
Measuring waist circumference, in addition to BMI, helps determine risk of cardiometabolic risk factors
Treatment with Saxenda® helped reduce waist circumference, a secondary end point3
WARNING: RISK OF THYROID C-CELL TUMORS
Liraglutide causes dose-dependent and treatment-duration-dependent thyroid C-cell tumors at clinically relevant exposures in both genders of rats and mice. It is unknown whether Saxenda® causes thyroid C-cell tumors, including medullary thyroid carcinoma (MTC), in humans, as the human relevance of liraglutide-induced rodent thyroid C-cell tumors has not been determined.
Saxenda® is contraindicated in patients with a personal or family history of MTC and in patients with Multiple Endocrine Neoplasia syndrome type 2 (MEN 2). Counsel patients regarding the potential risk of MTC with use of Saxenda® and inform them of symptoms of thyroid tumors (eg, a mass in the neck, dysphagia, dyspnea, persistent hoarseness). Routine monitoring of serum calcitonin or using thyroid ultrasound is of uncertain value for early detection of MTC in patients treated with Saxenda®.
Indications and Usage
Saxenda® (liraglutide) injection 3 mg is indicated as an adjunct to a reduced-calorie diet and increased physical activity for chronic weight management in:
Adult patients with an initial body mass index (BMI) of 30 kg/m2 or greater (obese) or 27 kg/m2 or greater (overweight) in the presence of at least one weight-related comorbid condition (eg, hypertension, type 2 diabetes mellitus, or dyslipidemia)

Pediatric patients aged 12 years and older with body weight above 60 kg (132 lbs) and initial BMI corresponding to 30 kg/m2 or greater for adults (obese) by international cut-offs
Limitations of Use
Saxenda® contains liraglutide and should not be coadministered with other liraglutide-containing products or with any other GLP-1 receptor agonist 
The safety and effectiveness of Saxenda® in pediatric patients with type 2 diabetes have not been established
The safety and effectiveness of Saxenda® in combination with other products intended for weight loss, including prescription drugs, over-the-counter drugs, and herbal preparations, have not been established
Contraindications
Saxenda® is contraindicated in:
Patients with a personal or family history of MTC or patients with MEN 2
Patients with a serious hypersensitivity reaction to liraglutide or to any of the excipients in Saxenda®. Serious hypersensitivity reactions including anaphylactic reactions and angioedema have been reported with Saxenda®
Pregnancy
Warnings and Precautions
Risk of Thyroid C-cell Tumors: If serum calcitonin is measured and found to be elevated, the patient should be further evaluated. Patients with thyroid nodules noted on physical examination or neck imaging should also be further evaluated
Acute Pancreatitis: Acute pancreatitis, including fatal and non-fatal hemorrhagic or necrotizing pancreatitis, has been observed in patients treated with liraglutide postmarketing. Observe patients carefully for signs and symptoms of pancreatitis (persistent severe abdominal pain, sometimes radiating to the back with or without vomiting). If pancreatitis is suspected, discontinue Saxenda® promptly and if pancreatitis is confirmed, do not restart
Acute Gallbladder Disease: Substantial or rapid weight loss can increase the risk of cholelithiasis; however, the incidence of acute gallbladder disease was greater in patients treated with Saxenda® than with placebo even after accounting for the degree of weight loss. If cholelithiasis is suspected, gallbladder studies and appropriate clinical follow-up are indicated
Hypoglycemia: Adult patients with type 2 diabetes on an insulin secretagogue (eg, a sulfonylurea) or insulin may have an increased risk of hypoglycemia, including severe hypoglycemia with use of Saxenda®. The risk may be lowered by a reduction in the dose of insulin secretagogues or insulin. In pediatric patients without type 2 diabetes, hypoglycemia occurred. Inform all patients of the risk of hypoglycemia and educate them on the signs and symptoms
Heart Rate Increase: Mean increases in resting heart rate of 2 to 3 beats per minute (bpm) were observed in patients treated with Saxenda®. Monitor heart rate at regular intervals and inform patients to report palpitations or feelings of a racing heartbeat while at rest during treatment with Saxenda®. Discontinue Saxenda® in patients who experience a sustained increase in resting heart rate
Renal Impairment: Acute renal failure and worsening of chronic renal failure, which may sometimes require hemodialysis, have been reported, usually in association with nausea, vomiting, diarrhea, or dehydration. Use caution when initiating or escalating doses of Saxenda® in patients with renal impairment
Hypersensitivity Reactions: Serious hypersensitivity reactions (eg, anaphylaxis and angioedema) have been reported in patients treated with Saxenda®. If a hypersensitivity reaction occurs, patients should stop taking Saxenda® and promptly seek medical advice
Suicidal Behavior and Ideation: In adult clinical trials, 9 (0.3%) of 3,384 patients treated with Saxenda® and 2 (0.1%) of the 1,941 treated with placebo reported suicidal ideation; one of the Saxenda® treated patients attempted suicide. In a pediatric trial, 1(0.8%) of the 125 Saxenda® treated patients died by suicide. There was insufficient information to establish a causal relationship to Saxenda®. Monitor patients for the emergence or worsening of depression, suicidal thoughts or behavior, and/or any unusual changes in mood or behavior. Discontinue treatment if patients experience suicidal thoughts or behaviors. Avoid Saxenda® in patients with a history of suicidal attempts or active suicidal ideation
Adverse Reactions
The most common adverse reactions, reported in ≥5% are nausea, diarrhea, constipation, vomiting, injection site reactions, headache, hypoglycemia, dyspepsia, fatigue, dizziness, abdominal pain, increased lipase, upper abdominal pain, pyrexia, and gastroenteritis
Drug Interactions
Saxenda® causes a delay of gastric emptying and has the potential to impact the absorption of concomitantly administered oral medications. Monitor for potential consequences of delayed absorption of oral medications concomitantly administered with Saxenda®
Use in Specific Populations
There are no data on the presence of liraglutide in human breast milk; liraglutide was present in the milk of lactating rats
Saxenda® has not been studied in patients less than 12 years of age
Saxenda® slows gastric emptying. Saxenda® has not been studied in patients with preexisting gastroparesis
Please click here for Saxenda® Prescribing Information, including Boxed Warning.
1. Ma J, Xiao L, Stafford RS. Underdiagnosis of obesity in adults in US outpatient settings. Arch Intern Med. 2009;169(3):312-316.
2. National Heart, Lung, and Blood Institute; National Institutes of Health; North American Association for the Study of Obesity. The Practical Guide: Identification, Evaluation, and Treatment of Overweight and Obesity in Adults. Bethesda, MD: National Institutes of Health; 2000. NIH Publication 00-4084.

3. Saxenda® [package insert]. Plainsboro, NJ: Novo Nordisk Inc.; 2022.
4. International Classification of Diseases, tenth revision, clinical modification (ICD-10-CM). Commonly used CPT and ICD codes. Centers for Disease Control and Prevention website. Accessed July 21, 2022. https://www.cdc.gov/diabetes/prevention/pdf/commonly-used-cpt-icd-codes_tag508.pdf