Designed with patients and caregivers in mind
ZEGALOGUE® (dasiglucagon) injection is available in 2 delivery devices1
Images are not actual size.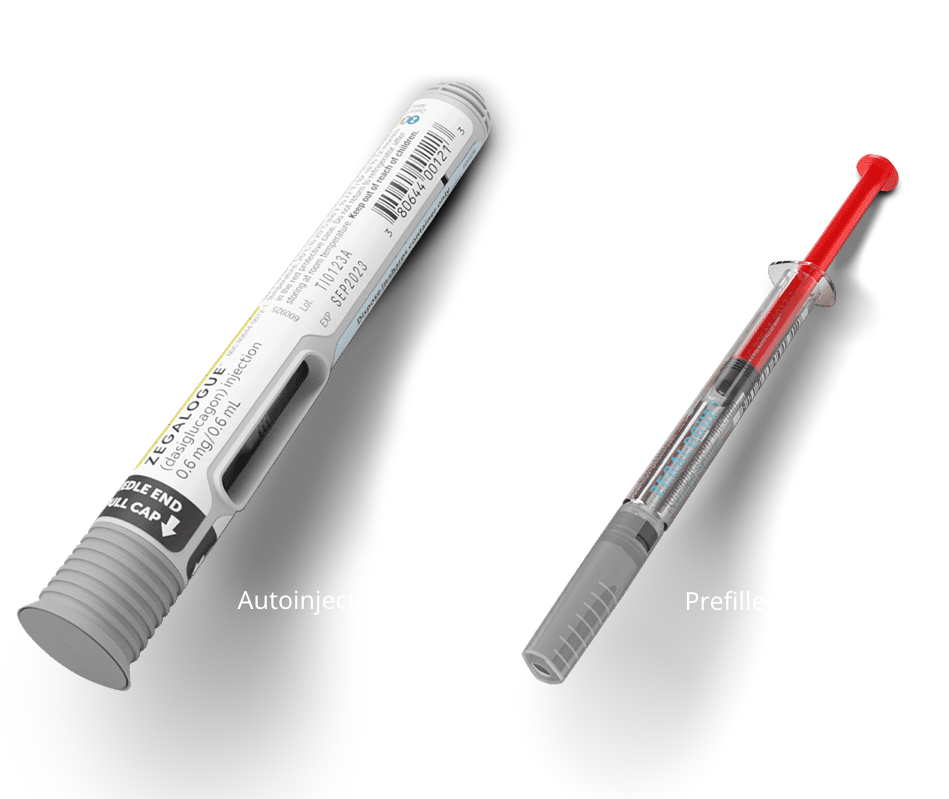 The simplicity is in the design
When patients and caregivers need it, ZEGALOGUE is: 
Prefilled with no reconstitution needed1
Portable and available in a single dose1
Because severe hypoglycemia requires the help of others to recover, instruct your patients to inform those around them about ZEGALOGUE and its Instructions For Use for complete administration information.1
Remind your patients to have someone call for emergency assistance immediately after administering the dose.1
The recommended dose of ZEGALOGUE in adults and pediatric patients aged 6 years and older is 0.6 mg administered by subcutaneous injection into the lower abdomen (at least 2 inches from the belly button), buttocks, thigh, or outer upper arm1
If there has been no response after 15 minutes, an additional 0.6-mg dose of ZEGALOGUE from a new device may be administered1
The convenience of 2 storage options
Store in a refrigerator (36 °F to 46 °F) for up to 3 years until the printed expiration date on the label2
Keep away from the cooling element1
Do not freeze1
Once removed from refrigeration, ZEGALOGUE can be stored at room temperature (68 °F to 77 °F) for up to a year, or until the original expiration date on the label, whichever comes first1
Do not return to the refrigerator after storing at room temperature1
Instruct patients to record the date when the product was removed from the refrigerator in the space provided on the protective case1
Store in the provided protective case and protect from light1
Discard ZEGALOGUE after the end of the 12-month period at room temperature storage, or after the expiration date stated on the product, whichever occurs first1
With ZEGALOGUE, patients and caregivers should have confidence in being prepared to treat severe hypoglycemia1
Discover how ZEGALOGUE offers product stability in an aqueous solution1
Indication and Usage for ZEGALOGUE® (dasiglucagon) injection 0.6 mg/0.6 mL
ZEGALOGUE® (dasiglucagon) injection is indicated for the treatment of severe hypoglycemia in pediatric and adult patients with diabetes aged 6 years and above.
Important Safety Information
Contraindications
ZEGALOGUE® is contraindicated in patients with pheochromocytoma because of the risk of substantial increase in blood pressure and in patients with insulinoma because of the risk of hypoglycemia.

Warnings and Precautions

ZEGALOGUE® is contraindicated in patients with pheochromocytoma because glucagon products may stimulate the release of catecholamines from the tumor. If the patient develops a substantial increase in blood pressure and a previously undiagnosed pheochromocytoma is suspected, 5 to 10 mg of phentolamine mesylate, administered intravenously, has been shown to be effective in lowering blood pressure.

In patients with insulinoma, administration of glucagon products may produce an initial increase in blood glucose; however, ZEGALOGUE® administration may directly or indirectly (through an initial rise in blood glucose) stimulate exaggerated insulin release from an insulinoma and cause hypoglycemia. ZEGALOGUE® is contraindicated in patients with insulinoma. If a patient develops symptoms of hypoglycemia after a dose of ZEGALOGUE®, give glucose orally or intravenously.

Allergic reactions have been reported with glucagon products; these include generalized rash, and in some cases anaphylactic shock with breathing difficulties and hypotension. Advise patients to seek immediate medical attention if they experience any symptoms of serious hypersensitivity reactions.

ZEGALOGUE® is effective in treating hypoglycemia only if sufficient hepatic glycogen is present. Patients in states of starvation, with adrenal insufficiency or chronic hypoglycemia may not have adequate levels of hepatic glycogen for ZEGALOGUE® administration to be effective. Patients with these conditions should be treated with glucose.

Adverse Reactions 

The most common adverse reactions (≥2%) associated with ZEGALOGUE® in adults were nausea, vomiting, headache, diarrhea and injection site pain; in pediatrics: nausea, vomiting, headache and injection site pain.

Drug Interactions

Patients taking beta-blockers may have a transient increase in pulse and blood pressure when given ZEGALOGUE®. In patients taking indomethacin, ZEGALOGUE® may lose its ability to raise blood glucose or may produce hypoglycemia. ZEGALOGUE® may increase the anticoagulant effect of warfarin.

Please see Zegalogue® Full Prescribing Information.